History
2016 - This is Anderson Chiropractic Offices' 63rd year of providing service to the tri-state area. The practice was started in 1953, when Dr. Norman Anderson, a graduate from National College of Chiropractic in Chicago, passed his state board exam and went into practice as an associate with local chiroprator, Dr. Minot in the American Building at 67 Main St. in Brattleboro.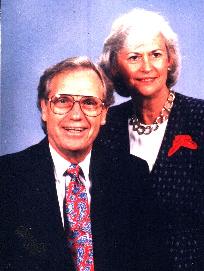 Dr. and Mrs. Norman Anderson


After a couple years of working with Dr. Minot, an office opened nearby and Dr. Anderson launched his own practice.

In 1966, real estate agent, Earl Baldwin approached young Dr. Norman about moving his office off Main St. to near exit two of Interstate 91. This was probably the first professional office on Western Ave. and created a trend for other professinal offices to do the same.

In 1977 Dr. Craig Anderson graduated from National College of Chiropractic, which moved to Lombard, IL. outside of Chicago. Within a month he joined his father in practice and they worked together for 10 years until Dr. Norman retired to Florida. He worked as a consultant for Douglas Laboratories for 18 years. Dr. Craig combined both practices and continues providing quality care.

Dr. Norman was a manual manipulator as originally was Dr. Craig. In about 1989 Dr. Craig shifted to more specific and gentler Activator instrument care. He has treated patients from 3 months old to 100 years old, couch potatoes to muscle bound weight lifters, business people, senior citizens and housewives to Olympic and professional athletes.


| | |
| --- | --- |
| | |
| Dr Craig Anderson | Office sketch |

Our office is a family practice. It was started by a father and carried on a son. Dr. Norman's wife was book keeper and doctor's assistant for many years. Dr. Craig's sister Janice worked as doctor's assistant and all three of Dr. Craig's kids have cleaned the office or helped with typing over the years. Dr. Craig's wife, Barbara, has been the bookeeper/receptionist, diet coach and an assistant for many years.

Today Anderson Chiropractic Offices is the oldest practice in the state of Vermont. In 2016 Dr. Craig completed his 39th year in practice He practices integrative health care offering spinal manipulation, adjuntive/physical therapy, exercise, nutrition, herbal and homeopathic remedies, naturopathic care, full neuro-musculo--skeletal examination and diagnosis, x-ray, lab and wellness care.